YAOS Past Productions > 1904 > The Mikado
Yeovil Operatic Society

presents

Gilbert & Sullivan's famous comic
Japanese Opera
The Mikado

or 'The Town of Titipu'


Music by Arthur Sullivan

Words by W. S. Gilbert

By Special Permission of Mrs D'Oyly Carte


Assembly Rooms
Princes Street, Yeovil

Tuesday & Wednesday
April 19th & 20th, 1904

'The Mikado' is a comic opera in two acts, with music by Arthur Sullivan and libretto by W S Gilbert, their ninth operatic collaboration. It opened in 1885 at the Savoy Theatre in London, where it ran for 672 performances, which was the second longest run for any work of musical theatre and one of the longest runs of any theatre piece up to that time. Before the end of 1885, it was estimated that, in Europe and America, at least 150 companies were producing the opera.

The plot is intended to satirise Victorian Britain's politics and aristocracy, however this time the story is set not in Britain, but in exotic Japan. Nanki-Poo, son of the Mikado (the Emperor), has fled in disguise to avoid marrying a much older suitor, having previously fallen in love with Yum-Yum. Unfortunately Yum-Yum is the ward of Ko-Ko, the Lord High Executioner, and has become engaged to marry him against her will. In the meantime, Ko-Ko is having problems because the Mikado wants him to fulfil his quota of killings, but the executioner is too soft-hearted to kill anyone. His solution is to trade a month of marriage to Yum-Yum for Nanki-Poo's life, by only pretending to execute him, but the plan backfires when Ko-Ko himself is accused of killing the Mikado's son.

Post Card advertising 'The Mikado'



Mr W J Horrex & Miss M Hawkins in the YAOS 1904 Production of 'The Mikado'



'Three Little Maids Are We' played by Miss O Box, Miss W Siddons & Miss L Gardner


(Photographs copied from the YAOS Souvenir Pictorial Record 1902-1930)

The Yeovil Constitutional Club & Assembly Rooms in Princes Street (c1902)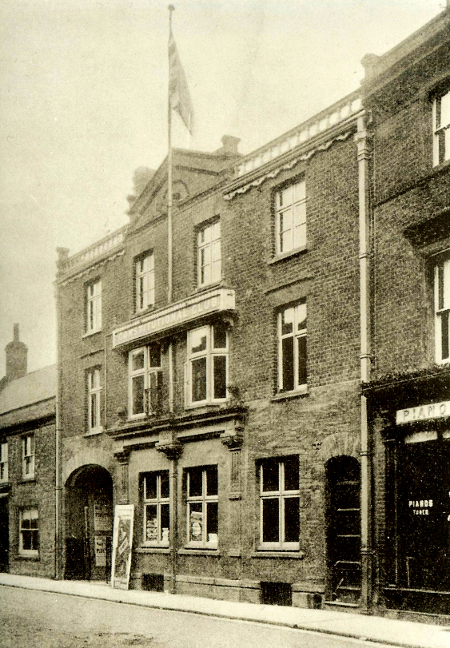 --o--
---