YAOS Productions - Award Winning Musical Theatre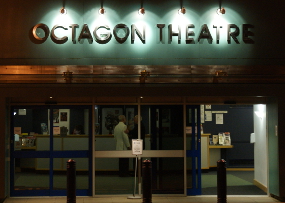 YAOS usually stages two major musical shows each year, in March and October, at the acclaimed Octagon Theatre in the centre of Yeovil.

YAOS members include many talented and dedicated performers, as well as its own back-stage crew. We also engage a professional orchestra, director, musical director, sound and lighting specialists for most productions, so that our audiences can continue to enjoy the best possible live theatre experience.
Next YAOS Show: 11-15 October 2022
Legally Blonde
'Legally Blonde' is a stage musical which premiered in San Francisco and on Broadway and then transferred to the West End, where it played at the Savoy Theatre for 974 performances and won three Olivier Awards. The story is about Elle Woods, a student who enrols at Law School intending to win back her ex-boyfriend Warner Huntington III. She then realises there is more to life than Warner and that her knowledge of the law could possibly be used to help exercise queen Brooke Wyndham, accused of murder. Not everyone is convinced that Elle has what it takes...
Directed for YAOS by JEREMY TUSTIN & Musical Director MARK SHELVEY
YAOS headquarters and postal address:
Edwards House, 14 Buckland Road, Yeovil, Somerset, BA21 5EA

YAOS is the Working Name and registered Trade Mark of Yeovil Amateur Operatic Society, Charity Registration Number 272621. YAOS Productions is a business name of YAOS Productions Ltd, a wholly owned trading subsidiary of Yeovil Amateur Operatic Society.
---