YAOS > Patrons & Sponsors

Yeovil Amateur Operatic Society



Patrons


Join us - be a Patron!

For those who wish to be involved with YAOS, but without the commitment of being an active Member, why not become a Patron? The generosity of our Patrons provides us with an extra layer of financial support and we welcome new Patrons to help us evolve and flourish for the future.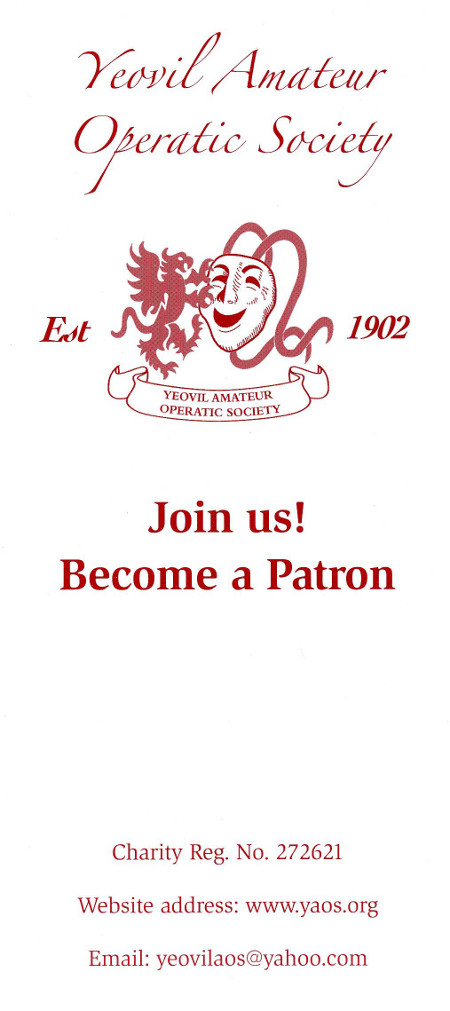 ---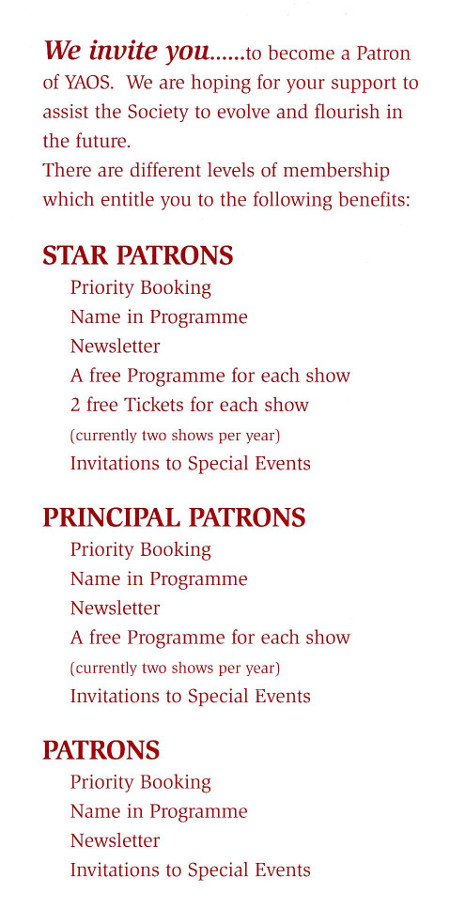 ---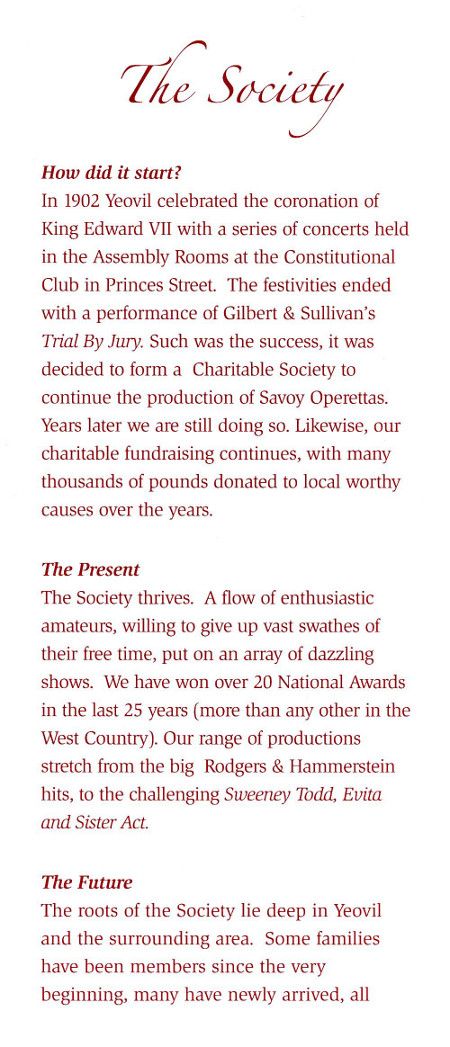 ---



---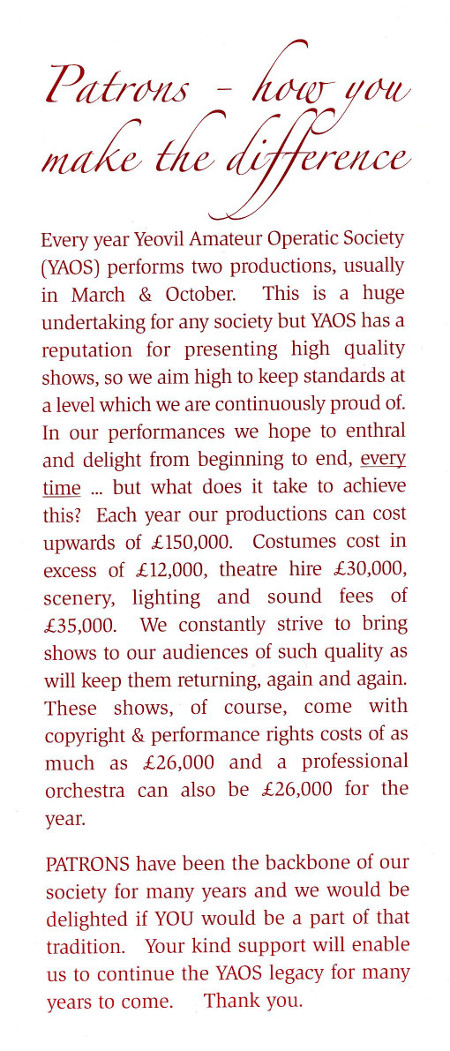 ---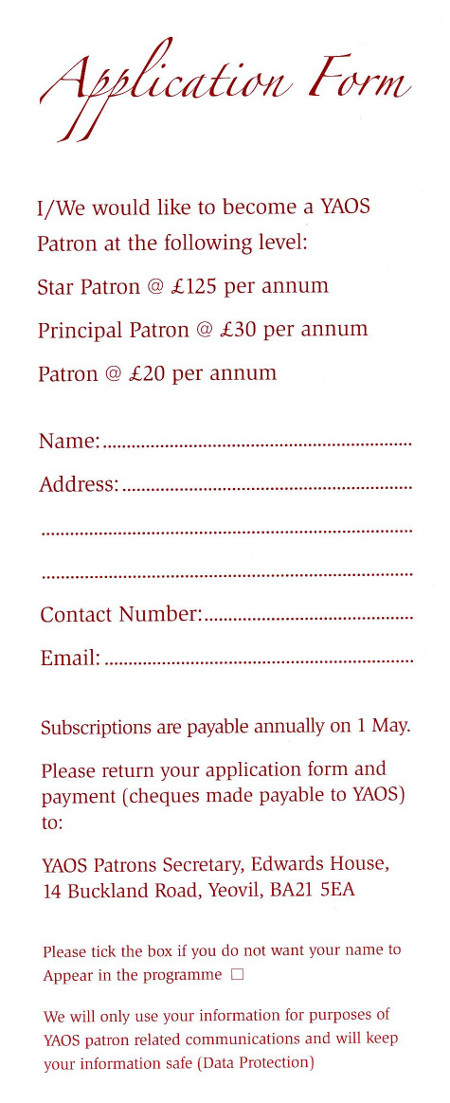 You can download a printable Application Form, or use the Contact Us form to send a message to our Patrons' Secretary.

---

Sponsors

Commercial Sponsors who advertise in our show programme also play a welcome part in supporting the Society and helping us to maintain the highest possible standards of production, while keeping our ticket prices as low as possible for the benefit of the community. Sponsors who have kindly supported us include:

Ward & Sibley Ltd - The Jewellers of Yeovil - Jewellers, Clockmakers & Silversmiths. Located at 103 Middle Street, Yeovil, BA20 1NA. Telephone (01935) 474065. www.wardandsibley.co.uk.

Read & Co - Chartered Accountants - Taxation, Accounting, Company Secretarial, IT Advice. Offices in Yeovil, Martock & Ilminster. www.readaccountants.co.uk.

Robert Frith Optometrists (Incorporating Harts Eyecare) - 28 Princes Street, Yeovil, BA20 1EQ. Telephone (01935) 474333.
www.frithsopticians.co.uk/practice/yeovil/about.

Mole Valley Farmers Ltd - part of the countryside. Animal health & husbandry, clothing & footwear, dairy, equestrian, feeding, fencing, garden, home, pets, poultry, workshop tools. Yeovil Retail Outlet located at Sherborne Road, Yeovil, BA21 5BJ. Telephone (01935) 420971.
www.molevalleyfarmers.com.

NFU Mutual - Agent of the National Farmers Union Mutual Insurance Company Ltd. Insurance, pensions and investments from the heart of the country. NFU Mutual Sherborne branch located at Roberts Court, Digby Road, Sherborne, DT9 3LB.
www.nfumutual.co.uk.

Chalmers & Co - Chartered Accountants. A personal service for accounting, auditing and taxation. Located at Mclaren House, 5 Park Gardens, Yeovil, BA20 1DW. Telephone (01935) 476499.
www.chalmersaccountants.co.uk.

Quantock Abbey Wine Cellars - established 1990. Wines by the case, free local delivery, over 300 quality wines from around the world. Located at Mill Farm, Weston Bampfylde, Sparkford, BA22 7HY. Call Andrew Mangles on (01963) 440404.
www.quantockabbey.co.uk.

A J Wakely & Sons - Independent Family Funeral Directors & Monumental Masons. Offices & Chapels of Rest in Yeovil & Sherborne.
www.ajwakely.com.

FWB Printing Ltd - for all your print requirements. Books, folders, leaflets, posters, ncr sets, calendars, postcards, brochures, magazines, letterheads, newsletters, programmes, business cards, greetings cards, compliment slips. Located at Bennetts Mead, Southgate Road, Wincanton, BA9 9EB. Telephone (01963) 33755.
www.fwbprinting.co.uk.

A K Hosie & Sons - Agricultural Contractors. All Spring cultivation work undertaken. Plough, press, air drill, powerharrow, maize drilling. New for 2010 - umbilical slurry system. Mchale round bale wrapper, Mchale square bale wrapper. Dung spreading, west, rear discharge, slurry tanker. JCB414 loading shovel, JCB Loadall, whole crop. Rolled wheat, barley, oats, beans, bags or bulk. Experienced team on all tasks. Call Adrian on (01963) 23613 or mobile 07971590540.

Laceys Yeovil - Independent Residential & Commercial Property Estate & Letting Agents. 12-14 Hendford, Yeovil, BA20 1TE. Tel: 01935 425115. For personal service, contact: David MacLauchlan BSc (Hons) MRICS, Chartered Surveyor, Director.
www.laceysyeovil.co.uk.
-----
Useful Links
Octagon Theatre, Yeovil:
www.octagon-theatre.co.uk
National Operatic & Dramatic Association (NODA):
www.noda.org.uk
NODA South West District:
www.nodasw.com
Somerset Fellowship of Drama:
www.somersetdrama.org.uk
The Swan Theatre, Yeovil:
www.swan-theatre.co.uk
Western Gazette:
www.westerngazette.co.uk
The Conduit Magazine:
www.theconduitmagazine.co.uk
Dorset & Somerset Air Ambulance:
www.dorsetandsomersetairambulance.org.uk
APPPPR.COM:
www.appppr.com
Yeo Vale Internet:
www.yeovaleinternet.co.uk
---