Welcome to YAOS Productions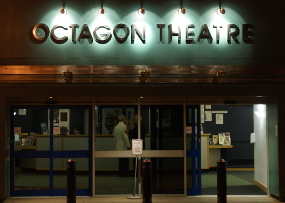 YAOS produces two musical shows each year at the Octagon Theatre in Yeovil, Somerset's premier arts and entertainment venue. The Octagon also has a spacious Café Bar, where theatre-goers can enjoy a relaxing meal or drink before the show.

YAOS is fortunate to have so many talented performers, supported by a large team of back-stage members, willing to devote huge amounts of their own time. YAOS is proud of the consistently high standards achieved and has won many local and national awards over recent years.

YAOS still continues its long tradition of hiring a professional orchestra, sound and lighting crew for every show, to give our audiences the best possible live theatre experience.
Next YAOS Show
9 - 13 October 2018
Sweeney Todd


Directed by Martyn Knight



YAOS headquarters and postal address:
Edwards House, 14 Buckland Road, Yeovil, Somerset, BA21 5EA

YAOS is a registered Trade Mark and the Working Name of Yeovil Amateur Operatic Society, Charity Registration Number 272621. YAOS Productions Ltd is a wholly-owned trading subsidiary of Yeovil Amateur Operatic Society. YAOS Productions is a business name of YAOS Productions Ltd.

---